AISWA LIBRARIES A.G.M / WASLA A.G.M
You are invited to join us for the 2018 AISWA Libraries AGM and WASLA AGM including the 25 YEAR PIN AWARD
which will be awarded during the combined AGM.
To nominate a colleague follow this link 25 Year Service Application Form
Awardee MUST be a current member of AISWA or WASLA and MUST be present at the AGM to accept award.
AGM Trybooking link
https://www.trybooking.com/429505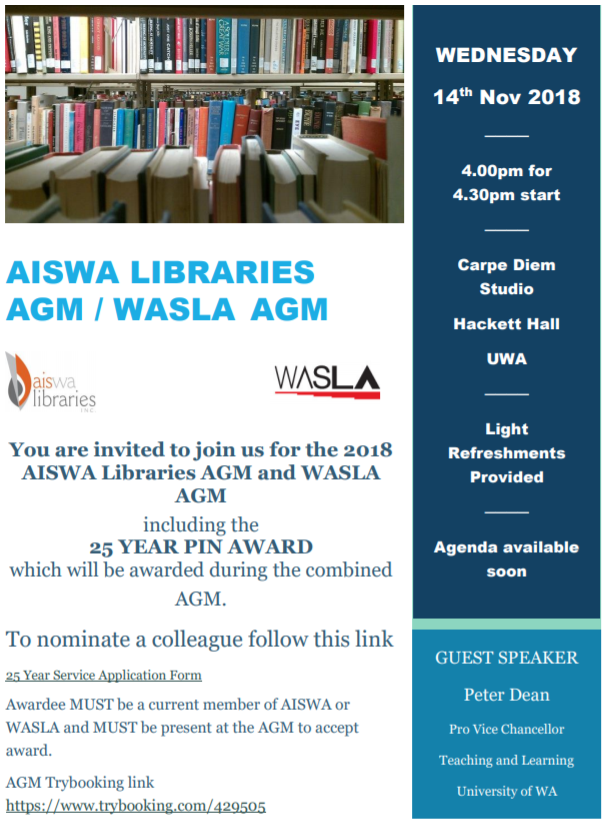 25 Year Service Award Nomination Form
Click here to nominate a colleague to receive a pin for 25 years of service.
WASLA Conference Day 2018 Scholarship Application
Please click below for the link to the link to the WASLA 2018 Conference Day Scholarship application form
Scholarship nomination form (.docx)
Scholarship nomination form (PDF)
WASLA 2018 Awards Nominations –  Now Open
The 2018 WASLA Awards recognise and honour an exceptional school library staff in school settings whose professional practice has a positive impact on the service provided by their school library.
This year there are three WASLA Awards for which nominations are now open.
The nominated individual must have a minimum of 3 years' experience as a Teacher Librarian / Library Technician / Library Officer, and be a financial member (personal or institutional) of WASLA. The Western Australian  Teacher Librarian of the Year,  Library Technician of the Year and Library Officer of the Year will be announced at the annual conference of the association and will receive a framed certificate, a trophy and $250.00.
Closing Date for Applications: Friday, 9 February 2018
WASLA Membership for 2018 – Now Open
Registration for WASLA Membership is  now open for 2018 .
WASLA 2018 Membership-Form now available
Opens with Adobe Reader
To register for a membership or renew an existing membership, click on the link above or alternatively navigate to the Membership page, download the membership form and complete it in Adobe Reader.
Website last updated on 03/11/2017