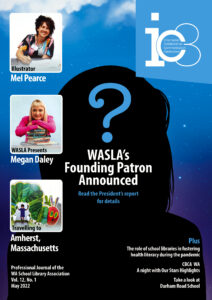 Short and Sweet PD – Webex Recording is now available
Webex Link: Here
Password:  wM3fsyd6
Share your COVID19 School Library Experience
COVID-19. It changed Term 1, 2020. It changed the way students and school staff approach Term 2, 2020. It changed the way we view education. It changed the world. What it didn't change was the need for school libraries run by a qualified and passionate school library team.
The team at Students Need School Libraries want to know and share what school libraries or school library teams have been focusing on during this COVID crisis. It might look a little different from the usual, but it's even more important during this time of change and upheaval.
Read more here and share your thoughts.
School libraries hit by the loss of a dying breed as teacher librarians enter 'survival mode'
"After hearing stories about jobs disappearing, the WA School Library Association (WASLA) recently surveyed its members, hoping to gain a clearer picture of what was going on."
Read more to see how WASLA played an instrumental role in the publishing of the following article (ABC News) by 
Rebecca Carmody
Link: https://www.abc.net.au/news/2019-09-15/research-reveals-alarming-loss-in-teacher-librarians-in-schools/11494022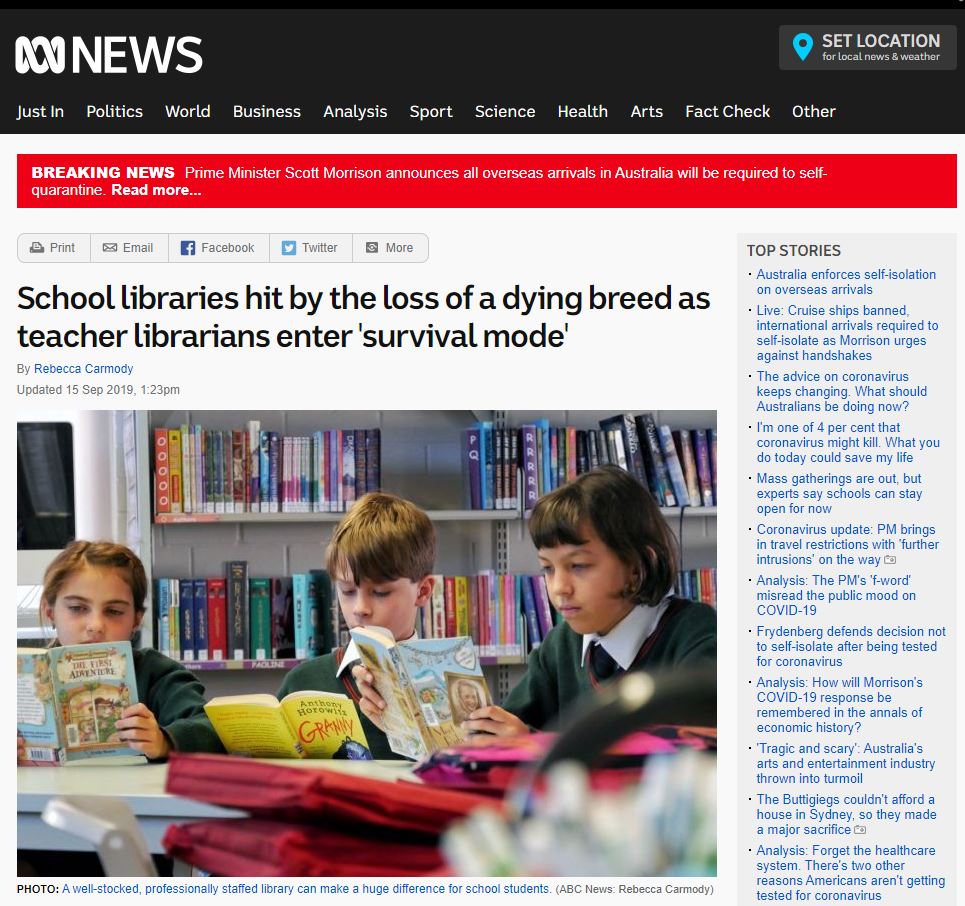 Notice: COVID-19 Advice
17/03/2020
In these uncertain COVID-19 times the way that we operate in school libraries will need to change. It is important that you discuss any changes that you want to make with your school leadership before implementing them. The following safety measures have been used in some public libraries before their enforced closure. WASLA believes that these actions are based on sound medical advice. They are:
all items returned to the library should be quarantined for at least 24 hours;
returned items should be handled by staff with disposable gloves or staff wash their hands immediately afterwards, as part of safe-handling practices;
shelves, chairs and furniture should be spaced further apart (if possible);
toys, games and soft items should be temporarily removed from student use;
visitor numbers should be captured and reviewed frequently to limit the number of people within the library to less than 100 OR to meet the social distancing requirements as required by the government, such as being 2m2 apart, (https://healthywa.wa.gov.au/coronavirus); and,
talk to your Manager of Corporate Services or Business Manager regarding the cleaning regime of the library and any resources that may be available to the library.
As schools prepare for possible closures, the school library can continue to provide services online for students and staff. To stay up-to-date with online resources and strategies, it is recommended that you join WASLAnet (http://www.wasla.asn.au/waslanet/), the WASLA Facebook page, OZTL_net (https://oztlnet.com/), and the school library pages on the Department of Educations' Connect communities. There are currently plenty of resources and strategies that are being shared by school library staff across the country.
Keep safe and healthy,
WASLA
WASLA Awards PD – Postponement due to COVID-19
17/03/2020
In the light of the current situation with COVID-19, WASLA has made the decision that we are postponing the PD scheduled to be held at Bob Hawke College on April 1. Once we have been given the all clear that we can again hold non-essential activities by the Department of Education, we will let you all know the new date.
Please note the following:
If you require a refund for your ticket, please email wasla@wasla.asn.au.
For those of you who are willing to wait for the new date, you can keep your current ticket.
We will be advertising again for this PD once we are in the all-clear and have a new date.
WASLA Award nominees will be informed of the results in Term 1 and the winners will be announced in ic3. The winners will be presented with their trophy at the rescheduled Awards event.
We apologise for any inconvenience and will let you know the follow-up date in the near future.
Natasha Georgiou
WASLA President
Update to WASLA Scholarship and Awards policies
15/03/2020
Note: Due to COVID 19 the following updates to the WASLA Scholarship and Awards Policy will take effect  from January 2021
For a full update regarding WASLA's updated Scholarship and Awards policy, please download the following:
For additional information regarding WASLA's Scholarship and Awards policy please click on this link:
to be directed to our Scholarships and Awards page
Survey results of Teacher Librarians in DET WA Schools
11/03/2020
The Western Australian School Library Association recently conducted a survey of all Department of Education personnel who have been identified by HRMIS (Human Resource Management Information System) as Teacher – Library Services. On the system 56 people were identified. The survey had a 100% response rate. Our findings are as follows:
– Out of 812 public schools in WA there are only 29.6 FTE Teacher Librarians (TL) working in a school library role. None of them worked in primary schools. Three regional and remote schools had employed qualified teacher librarians.
– There are only 33 schools who employ teachers in a library role. In those schools 38 employees have Teacher Librarian university qualifications. Of these two staff have TL qualifications but are employed as School Librarians.
– 18 qualified Teacher Librarians work between 0.8 and 1.0 in a school library role. 20 work a fraction of 0.6 and 0.1 in the school library.
– Five schools recently had recently moved their qualified TL out of the library and now have Library Officers or Teachers (without a Library qualification) managing their school libraries.
Download the PDF survey results here: Parliamentary Question TLS in DETWA [PDF]
Professional Development – "Bodies of Information"  
06/09/19
The Bodies of information Professional Development, held at the State Library, was a great success. Organised as a joint project by representatives from WASLA, ALIA Academic and Research Libraries (WA), ALIA Students and New Graduates, ALIAWest, RIMPA and Public Libraries of WA, this inspiring Professional Development explored what we have in common and how we could all positively influence our changing profession through effective marketing and inspirational leadership.
The day featured three inspiring keynote speakers. Curtin University's Professor Julia Richardson talked about having an intelligent career and taking responsibility of your work and life. Jeremy Chetty, co-founder of Student Edge and entrepreneur in residence at Murdoch LaunchPad,  discussed service as a brand and Amy Kapernick, from Tech Outsiders, explored the art of failure.
Morris Gleitzman visits
22/07/19
Renowned author Morris Gleitzman visited Methodist Ladies College as part of a combined WASLA and AISWA Libraries Professional Learning session.  He talked about his role as 2019 Children's Laureate and about the important role of school libraries. The session was attended by library staff across multiple sectors.

Birds of a Feather PD a great success
22/06/19
Sevenoaks Secondary College in Cannington was the venue for WASLA's latest Birds of A Feather Professional Development. The morning was a great success with a variety of presentations and workshop workshops from a range of school library staff from various schools.
WASLA Award winners named for 2019
04/04/19
Congratulations to the recipients of the 2019 WASLA Awards. The presentation of the awards was held at the Reid Library at the University of Western Australia.
The awards winners were:
School Library Team of the Year – Scotch College
Teacher Librarian of the Year  – Felicia Harris – School of Isolated and Distance Education
Library Officer of the Year – Yvonne Smillie